Room on Fire
is the second album of The Strokes.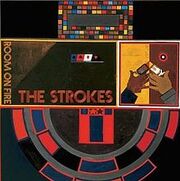 The group began recording their follow-up in 2002 with producer Nigel Godrich (best known for his work with Radiohead), but later split with him in favor of Gordon Raphael, the producer of Is This It. Recordings with Godrich were never revealed. In August 2003, the band toured Japan, playing a couple of the upcoming songs: "Reptilia", "Meet Me In The Bathroom", "The Way It Is", "Between Love & Hate" (formerly known as "Ze Newie") and "12:51" (formerly known as "Supernova"). The band also played Paul Anka's "My Way" with Japanese lyrics.
The Strokes released their second album Room on Fire in October 2003. It received praise from critics but was less commercially successful, although it still went gold. The album's sound maintained the Strokes' familiar reference points, while also evoking groups such as The Cars, Bob Marley, and Blondie[citation needed]. In the process, they made the cover of Spin Magazine for the second time, with each member receiving his own cover. They also made the cover of Rolling Stone for the first time. Additional media coverage of the band came from the relationship between Moretti and actress Drew Barrymore, which ended in January 2007.
The first single taken from Room on Fire was the song "12:51", which used distinct keyboard-like sounds produced by Valensi's guitar. The video was also directed by Roman Coppola, and was inspired by the futuristic look of the 1980s film Tron. This consisted of a mainly black scene, with instances of glowing picton blue and riptide. In November 2003, The Strokes played on Late Night with Conan O'Brien, performing "Reptilia", "What Ever Happened", "Under Control" and "I Can't Win". During the 2003/2004 "Room on Fire Tour", the band played with Kings of Leon as support act and Regina Spektor. While on tour, Spektor and the Strokes recorded the song "Modern Girls & Old Fashion Men", released as a B-side on the "Reptilia" single. Also during the tour, the band included The Clash's "Clampdown" as a cover, which was released as the B-side for "The End Has No End".
In late 2004, The Strokes revealed plans to release a live album. The Live in London LP was planned for release in October 2004, but was abandoned, reportedly due to recording quality problems. The chosen gig was one held at the legendary Alexandra Palace in North London. In February 2005, Julian Casablancas wed long-time friend and assistant band manager Juliet Joslin. The Strokes had a three-concert South American tour in October 2005, with dates in Brazil, Chile, and Argentina.
2. Reptilia
4. 12:51
11. I Can't Win